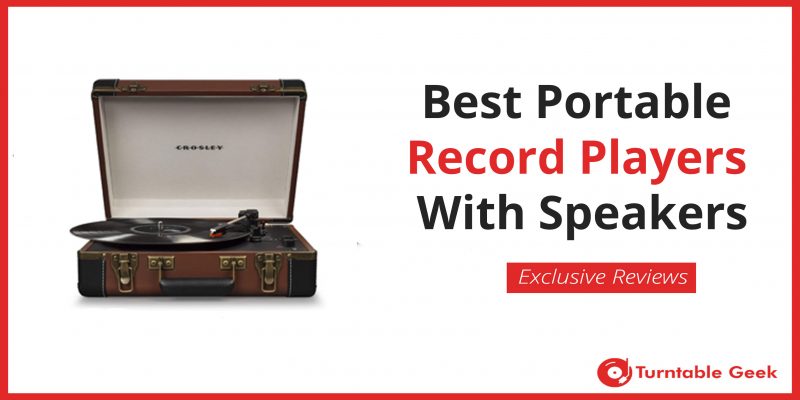 A Portable music device with excellent sound quality is a true companion to enjoy your favorite music. But when it comes to vintage music lovers, finding the best portable music device is very hard. A record player with speakers is the ultimate solution to enjoy your favorite music on the go. Such suitcase turntables are made with portability feature to take them wherever you want. To be honest, technology has become cheaper, and it is easily accessible to people all over the world. Portable record players with various features like wireless speakers, USB ports, editing software, and many more are dominating the market. Choosing the right record player brand with a quality product has become even harder.
Top Rated Portable Record Players With Speakers for 2021
We have spent more than one week to analyze best portable record players on the market and selected these top 10 products for you.
| Turntable | Rating | Price |
| --- | --- | --- |
| VOKSUN Vintage Record Player | ⭐⭐⭐⭐⭐ | |
| Crosley CR6019D-BR | ⭐⭐⭐⭐ | |
| Sony pslx300usb | ⭐⭐⭐⭐⭐ | |
| Pyle Upgraded Vintage | ⭐⭐⭐⭐⭐ | |
| Ion Audio iPTUSB | ⭐⭐⭐⭐ | |
| Wockoder Record Player | ⭐⭐⭐⭐ | |
| Feir TP204 | ⭐⭐⭐ | |
| Victrola Vintage | ⭐⭐⭐⭐ | |
| Victrola 50's retro | ⭐⭐⭐⭐ | |
| Crosley CR8009A-SEA | ⭐⭐⭐⭐ | |
1# VOKSUN –

Vinyl Player With Built-in Stereo Speakers

Key Features
Built-in dynamic full-range stereo speakers
Plays 33 1/3, 45, 78 RPM
3-speed belt-driven feature
Headphone jack and aux-in mp3 player compatibility
Bluetooth and AM/FM Radio
One of the best entry-level turntables on the market, the Voksun Portable Vintage Record Player, is made with an attractive wood grain to give it an excellent appearance. It is designed with the wood panels and elegant silver buttons of classic electronics but equipped with modern features to satisfy your music requirements.
It comes with a reliable 3-speed belt-driven Feature to offer excellent sound quality. The Bluetooth function allows you to connect your Smartphone or tablet for playing your favorite tracks wirelessly. Manufactured from hardwood and furniture-grade veneers, this portable record player has a low vibration synchronous motor along with the shock-absorbent feet.
Besides its affordable price, it has some great features for both new and expert audiophiles. It supports playback of 33 1/3, 45 and 78 RPM records with less wow and flutter. A pair of built-in full-range stereo speakers are good enough for a medium-sized room. The record player also has a headphone jack and an RCA port to connect external speakers. Additional features include an aux in and AM/FM radio.
Pros
Retro style & delicate design
Dual integrated stereo speakers
Premium sound quality
12 months warranty
Affordable price
Cons
No tonearm counterbalance
2# Crosley CR6019D-BR Executive Portable USB Record Player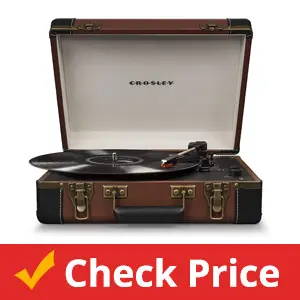 Key Features
Built-in Full Range Stereo speakers, auxiliary input and RCA audio output
Adjustable pitch control
Built-in Bluetooth receiver
USB enabled to connect to Windows PC or Mac
3 speed options: 33 1/3, 45, and 78 RPM records
Best known for its fantastic design and portability, this Crosley record player comes with only 7 pounds of weight. Featuring a black and brown antique suitcase vibe, Crosley CR6019D-BR has a compact size, which makes it easy to carry around. Despite being brass plated, the case ensures its classic appearance through the years.
This portable device can play vinyl at three speeds, including 33-1, 3, 45, and 78 RPM. A USB port allows you to connect the player to your computer and convert the records into digital audio files with the software. This portable record player also has an adjustable pitch control to ensure the quality of sound reproduction.
Crosley CR6019D-BR features built-in full-range stereo speakers, which are good enough for mid to large rooms. Also, a standard headphone jack and RCA output allow you to enjoy music with close on headphones or loud via external speakers. If you want to connect a wireless device, there is a Bluetooth receiver for your convenience. Overall, it is a decent choice for those who are looking for a portable record player with classic appearance and lightweight to carry it around.
Pros
Gorgeous vintage suitcase design
Dual stereo speakers and built-in Preamp
One Year Limited Manufacturer's Warranty
Compact size
Lightweight record player
Cons
Built-in speakers are not loud enough.
3# Sony pslx300usb USB stereo Record Player Renewed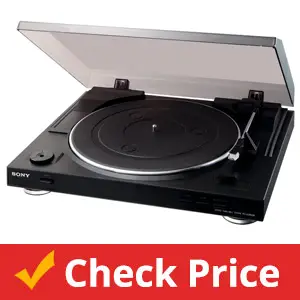 Key Features
High-quality belt drive system
Built-in phono preamp
2 operating speeds: 33 1/3 and 45 rpm
Static balance tonearm
USB output for quick, easy vinyl-to-MP3 conversion
Diamond stylus for superb sound reproduction
Sony pslx300usb is an excellent option under 200 for you. This is an average medium-sized record player with only 6 pounds of weight for easy portability. It features a fully automatic operation that can play 33 1/3 and 45 RPM records. Though the machine is mostly made of plastic, it is straightforward to set up anywhere you want. In fact, for new users, this portable record player is an ideal choice.
This portable turntable comes with a built-in phono preamp and static balance tonearm. The N-6516 stylus may not be the best on the market, but it is easy to upgrade it for better sound quality. This belt-driven player also has different switches to adjust the speed and size. The USB port allows you to convert your favorite music from vinyl records to digital format. The Sony Sound Forge Studio software helps to transfer the files into your pc.
Thanks to the built-in phono preamp that allows playing music directly from the record player. Also, the Bluetooth Feature helps to connect your headphone and speakers wirelessly. Overall, Sony pslx300usb USB stereo Record Player is the right budget choice with decent sound quality and features.
Pros
Easy to operate
Good sound quality
Commercial recording software
Built-in Preamp
Fully automatic operation
Cons
No headphone jack
No built-in volume control
4# Pyle Upgraded Classic Vinyl Player With Rechargeable Batteries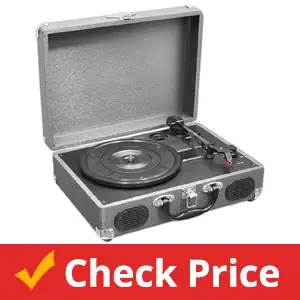 Key Features
3 Speed Turntables 33, 45, 78 RPM
Two Built-in Stereo Anti-Magnetic Speakers
Ceramic Stereo Cartridge
Audacity Audio Editing and Conversion Software
Built-in Rechargeable Battery
This is one of the most stylish portable record players with compact size on the market. Offering versatile features, this unique player allows users to connect the device to your computer and digitalize records using the Audacity editing software. Wrapped in a decent and portable briefcase, you can carry this portable record player anywhere you want.
It has three speeds setting to play records in 33, 45, and 78 RMP. One of the best features of this record player is the rechargeable battery, which is not available in traditional turntables. Made from Pyle, this durable record player is crafted with a layer of composite leather to give it a decent finish. Not only has it made the player stylish but a durable companion for traveling and daily use.
Featuring two built-in stereo Anti-magnetic speakers, it allows you to enjoy music with a decent sound range. However, if you want to connect your home audio system, stereo RCA output is there to help you. A USB port can be used to charge and also to connect the record player to your pc for digitalizing your favorite records. Last but not least, Ceramic Stereo Cartridge improves the sound quality.
Pros
Durable Construction
Easy to use
Portable briefcase-style design
Dual Speakers
Affordable price
Also Check:
5# Ion Audio iPTUSB Portable USB Record Player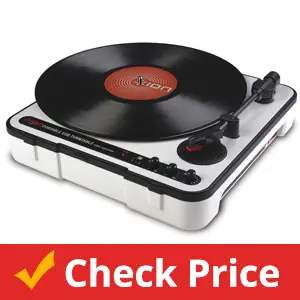 Key Features
Fits in a standard 12″ record case
Built-in speaker
Protective dust cover with integrated carrying handle
Battery-powered by 6 D batteries or AC power adapter
Turns records into MP3 format
±10 percent pitch control
Whether you are a seasoned audiophile or a music lover looking for a compact-sized record player with speakers, this Ion Audio iPTUSB is a perfect choice for them with an ideal blend of portability, sound quality, and other basic features. This best portable record player has been made with plastic, but the handle is made from metal.
The player is designed for two types of music lovers. First, those that don't have proper space to set up a full-sized turntable and the second that are looking for an easy to carry record player to enjoy music on the go. It features a belt-driven motor that can play 33, 45, and 78 RPM settings. You can easily convert your old vinyl collection to MP3 or CD using the included recorded software.
One of the prime features of this portable record player is its built-in speaker with decent sound range. Also, the player runs on both AC power and six D-sized batteries. The USB connectivity allows you to connect it to your PC and convert LPs and 45s into digital files. Other notable features include a stereo line input, dust cover, line output, and cartridge with pre-assembled stylus.
Pros
Excellent sound quality
Compact size
Easy to use
Self-storing
Dust cover
6# Wockoder Record Player with Speakers

Key Features
33/45/78 rpm playing speeds
4 vibration absorption foot pads
Built-in 2 dynamic stereo speakers
Vintage suitcase design
RCA output and headphone jack
Vintage record players have their own appealing power for casual listeners and audiophiles. This vintage style turntable by Wockoder takes you back to the classic design, and above all, it is equipped with all modern features. Despite its compact design and lightweight, this record player is built tough. The dust cover helps you to protect both platter and vinyl free from dust.
Though the tonearm and stylus works are suitable for new music lovers, serious audiophiles may want to upgrade them. It supports three-speed settings with three record sizes, including 33 1/3, 45, and 78 RPM. One of the best features of a Wockoder record player is its improved shock absorption. The spring at the base of the record player provides decent shock absorption to improve the sound quality. Also, it prevents the tonearm from skipping the music.
The built-in speakers are good enough for medium rooms, but for large rooms, you may need to connect your home sound system using the RCA outs. The belt-driven motor also helps to reduce the vibration. An elastic belt is directly connected to the motor and platter and offers precise, smooth, and fast movements. Last but not least, the Bluetooth connectivity allows you to enjoy music from smartphones, MP3 players, tablets, and also wireless speakers.
Pros
Compact design
Easy to use
Excellent customer service
Affordable Price
Multiple speed settings
7# Stereo Vinyl Player With Built-in Speakers By Feir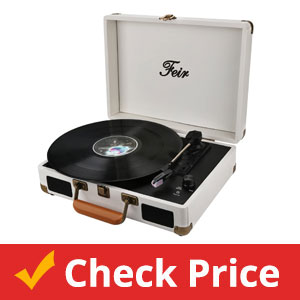 Key Features
3-speed 33 1/3, 45, 78 rpm
Built-in 2 speakers
Belt Driven system
AUX input, RCA output, and Headphone Jack
Vinyl-to-PC Recording
Though the brand is relatively new, which was established in 2015, Portable TP-204 is one of the popular products by Feir. The built-in front speakers of the player allow you for perfect and pleasing sound reproduction. Featuring a vintage suitcase design, this compact record player comes with a weight of only 6.9 lbs for easy transportation.
There are 3-speed settings in Feir Portable Record Player, including 33, 45, and 78 RPM. It also has a dynamic and balanced tonearm with smooth damping control. You can easily record the music and make your favorite tracks. This belt-driven turntable features a fully automated system that not only helps with sound reproduction but also reduces the vibration produced by the motor.
When it comes to sound, its two build stereo speakers offer the best quality sound. In fact, this is one of the best selling points of this portable record player with speakers. You can easily convert records to digital files using your pc. This portable turntable also supports various music playback modes. Other notable features include a headphone jack, RCA output, and an auxiliary port.
Pros
Soft damping control
Fully automatic
Good overall sound quality
Sturdy suitcase casing
Best for new users
Cons
No Bluetooth connectivity
8# Victrola Upgraded Vintage Suitcase Record Player With Speakers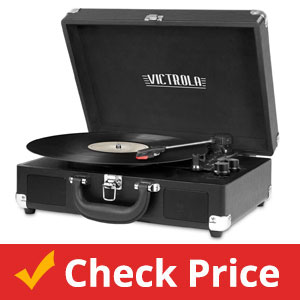 Key Features
3-speed belt-driven system
Built-in Bluetooth speakers
Vintage suitcase with a comfortable carry handle
Custom tuned Preamp
Aux-In, RCA outputs, and a headphone jack
Another vintage-style record player with a built-in speaker, this Victrola model comes with a compact design, durable suitcase, and classic carry handle. In terms of functionality and portability, this suitcase-style portable record player is the best option for travelers. Inside the suitcase, you can use the dial, power, and input source controls.
Though the metal tonearm of the player is flimsy and thin, it is durable. The plastic made platter doesn't have protection for your vinyl records, so you have to be careful with it. Bluetooth is, without any doubt, the most sought out modern feature for music lovers. You can connect your Smartphone, tablet or any Bluetooth enabled device to enjoy your favorite tracks at thirty-three feet distance.
The built-in dual speaker system is good enough for bedroom use. If you want more sound, then use the RCA jacks to connect the external speakers. For a wireless connection, Bluetooth feature can help. Victrola record player comes with 3-speed options, including 33, 45, and 78 RPM. The inputs also offer more playback options, including 3.5 aux input for external devices like CD players, MP3 players, and active speakers. Last but not least, the headphone jack allows you to enjoy music when everybody is asleep.
Pros
Fully automatic cueing
Great sound quality
Eighteen color options
Portable and Durable
Inexpensive
Beginner-friendly
Cons
Cheap platter
Flimsy tonearm
9# Victrola 50's retro With Bluetooth, CD Player and Speakers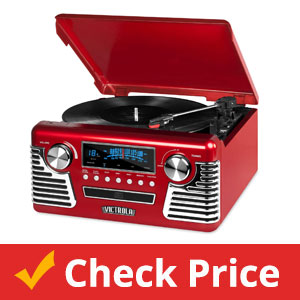 Key Features
3-Speed Turntable (33 1/3, 45, 78 RPM)
AM/FM Radio with Backlit Tuner
Easy-to-Use Recording Software
3.5mm Aux-In and Headphone Jack
Bluetooth Wirelessly Streams Music up to 33 Feet Away
Built-In CD player & Stereo Speakers
Loaded with full modern features, this vintage record player by Victrola is one of the most versatile record players available on the market. Not only it plays records in three speeds but also plays CDs, Radio, and music from smartphones and other devices. One of the best things about this Victrola model is that it comes in four colors to satisfy the needs of music lovers.
The payer allows you to digitalize vinyl record collection. Just connect the player to your pc and use the recording software to record your vinyl record tracks. It is Bluetooth compatible player, which means you can connect wireless devices including iPhone, iPad, and wirelessly stream music from up to 33 feet away.
This three-speed model can play 33 1/3, 45, and 78 RPM. One unique feature of this best portable record player with speakers is the built-in CD player that allows you to enjoy old albums. Stay connected to the latest news and weather reports with the AM and FM. The 3.5 mm aux input lets you enjoy music from external sources. Last but not least, a headphone jack allows you to listen to music without disturbing anyone.
Pros
Portable design
Bluetooth Connectivity
Beginner-friendly
Built-In CD player
MP3 Conversion via USB Encoding
10# Crosley CR8009A-SEA Discovery Vintage

Key Features
3 speeds: 33 1/3, 45, and 78 RPM records
RCA output and Headphone Jack
Aux-in and Bluetooth receiver
Adjustable pitch control
Built-in stereo speakers
This Crosley Discovery record player is all about rediscovering the lover of audiophiles for vinyl. Featuring a vintage appearance, this best portable record player with speakers by Crosley comes with all necessary features by keeping the budget in mind. It is a very lightweight record player that allows you to take it anywhere you want to enjoy your favorite tracks.
For audiophiles, the sound quality of built-in speakers is a real gift. It comes with a three-speed setting, including 33 1/3, 45, and 78 RPM. The Bluetooth receiver allows you to transmit digital tracks wirelessly through the stereo speakers. However, if you are looking for more sound, simply connect the home audio system using the RCA outputs.
Another best-of Crosley CR8009A-SEA Discovery Vintage record player is the adjustable pitch control for tuning your records. A headphone jack is there for those who don't want to disturb others while listening to music. Also, there is an auxiliary input for connecting portable audio devices. Overall, this is one of the best portable vinyl player for beginners.
Pros
Vintage Style
Excellent sound
Lightweight and durable
Adjustable pitch control
The best record player for beginners
Conclusion
High-end record players come with luxury features, but you have to pay a healthy amount for them. But these best portable record players with speakers are also a decent option with excellent functions. Of course, sound quality is the prime factor when it comes to buying a portable record player with speakers. Don't forget to check the durability and weight of the player because you are going to carry it around to enjoy your favorite music.