We have chosen the best turntables specifically for direct drive enthusiasts. Apart from availability, top-notch design, and durability these products curated from reputed sources after evaluating hundreds of customer reviews and feedback responses from our newsletters. The quality and functionality assurance is already done by us. See below our picks or scroll down for detailed features, pros, and cons.
| Product | Rating | Price |
| --- | --- | --- |
| Reloop AMS-RP-4000-MK2 | ⭐⭐⭐⭐⭐ | https://www.amazon.com/Reloop-RP-4000-MK2-Torque-Turntable/dp/B07CRMD2ZT?&linkCode=ll1&tag=gameswiki-20&linkId=756819ee71af1fdae1219116c6ce3022&ref_=as_li_ss_tl |
| Audio-Technica's AT-LP120-USB | ⭐⭐⭐⭐ | https://www.amazon.com/Audio-Technica-AT-LP120XUSB-Direct-Drive-Hi-Fidelity-Anti-Skate/dp/B089T77WK2?&linkCode=ll1&tag=gameswiki-20&linkId=cac613ea1adf24d79d41b5c95196a043&ref_=as_li_ss_tl |
| Dual Dtj 301.1 G | ⭐⭐⭐⭐ | https://www.amazon.co.uk/Dual-Dtj-301-1-Professional-Turntable/dp/B07T7HFLSR?returnFromLogin=1&linkCode=ll1&tag=bb2019-21&linkId=95e6fd72a8489197081f9abe4a21496a&language=en_GB&ref_=as_li_ss_tl |
| Audio-Technica ATLP1240USBXP | ⭐⭐⭐⭐⭐ | https://www.amazon.com/Technica-AT-LP1240-USB-Direct-Drive-Professional-Turntable/dp/B079QQ131N?&linkCode=ll1&tag=gameswiki-20&linkId=90a472f9a4293e8182d37fcbe2ae4926&ref_=as_li_ss_tl |
Direct drive turntables are very durable and efficient. All DJs prefer a direct drive turntable because this is the best way to steer the playback. As compared to the belt drive turntable the direct turntable provides less abrasion. Direct drive is a better choice for geeks, DJs or to make an original mash-up of your songs.
Best Choices for Direct-Drive Turntable
There are the 4 best direct-drive turntables given below with their exciting features.
Reloop AMS-RP-4000-MK2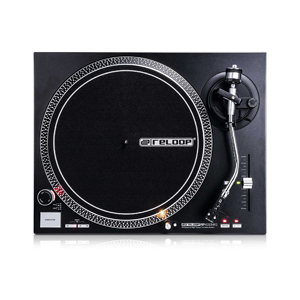 Reloop AMS-RP-4000-MK2 is a superb entry-level option for aspiring DJs. It provides exceptional features to users. It provides a clear and clean sound.MK2 direct drive turntable features a fader on the right side of the platter that permits you to shift the tempo between 8% and 16%. You'll shift between these two modes by pushing the 8%/16% button below the fader, and automatically reset the speed to 0% (normal) by pushing a
Button to the left of it. Which provides the facility to manage your DJ turntable's speed without looking down, or relying on muscle memory could also be a serious win.

Tons of features make DJing easier for beginners because you'll believe in pressing buttons until you get comfortable controlling the faders, while also that concentrate on other tasks like song selection, and EQ (equalization). When combined with the physical design choices Reloop made, like building during a motor with higher torque (force used to rotate objects) and reinforced metal housing, you get a well-balanced turntable for home and professional use.
SPECIFICATION:
Brand: Reloop
Weight: 9.8 Kilograms
Product Dimensions: 21.6 x 17.4 x 9.3 inches
Model Number: AMS-RP-4000-MK2
Power Source: AC Motor
Voltage: 220 Volts
FEATURES:
MK2 also features a button that permits you to reverse the direction of your record, so you'll play it backward for scratching.
This turntable starts and stops at 33/3 and having a selection speed.
Having an s-shaped tonearm along with a hydraulic lift provides the best speed.
Also the built-in anti-skating mechanism.
Pros
High torque direct-drive turntable
Highly durable
Anti-skating
Powerful motor
Cons
Sometimes anti-skating adjustment cause problem.
Whether you're a music fan who wants to start DJing, or a DJ looking to upgrade from an older rig, this is often an outstanding place to start.
Audio-Technica's AT-LP120-USB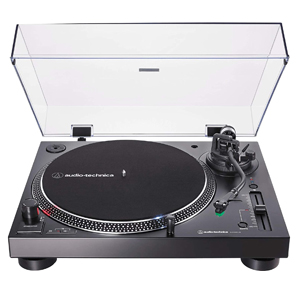 Audio-Technica is one the most renowned brands famous for turntable products. Trusted by the customers it offers some of the best direct-drive turntables under 200. An amazing solid direct drive turntable. It's best for the entry-level vinyl enthusiast because it offers some amazing and fantastic features. Provide quality sound without breaking the bank.

The turntable motor is present directly beneath its turning platter which enhances the turntable performance. By this, it requires less maintenance care. The phonograph is plug-and-play because it features a built-in phono preamp. this suggests you don't need to connect it to an amplifier but you'll just use the road output and connect it to only about any speaker on the market that has its power supply. There's however a turn on the rear of the turntable to show off the inbuilt preamp so you'll connect your favorite amplifier. Confine mind that the RCA output cables are hard-wired cannot easily get replaced when damaged.

The body is formed of aluminum and plastic giving it an overall solid feel. Because the turntable is in a position to play 33 and 45 rpm records an indicator that shows the playing speed.
SPECIFICATIONS
Brand: Audio-Technica
Weight: 17.6 Pounds
Product Dimensions: 22 x 18 x 10 inches
Model Number: AT-LP120XBT-USB-BK
Color: Black
Power Source: motor
Voltage: 4 mV nominal at 1 kHz, 5 cm/sec
FEATURES:
For DJ's it's the choice to play and records backward easily also adjust the pitch.
Also, use to digitize records.
An amazing feature a USB output that will be connected to your computer.
The body is formed from plastic and aluminum makes it more durable.
Pros
USB output
Digitize records.
A plug-and-play makes that is easy to use.
Decent build
Anti slipmat and speed switch.
Cons
The RCA cables are hardwired.
Overall, the Audio-Technica's AT-LP120-USB delivers a tremendous set of features for its price. Confine mind that it lacks luxury materials and cartridges of the higher-end turntables. But it's perfect for entry-level vinyl enthusiasts or folks that want to digitalize their records. It's an entire package for a really good price
Dual Dtj 301.1 G – Professional USB DJ Turntable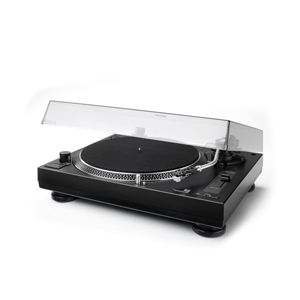 An amazing premium product from the best brand. The Dual DTJ 301.1 could also be an honest direct drive turntable. It's one of the only record players under 200 dollars which offers great features and a silent direct-drive motor.

It features an arm of which the load is adjustable, a superb feature that's normally only supported within the higher-end models. This might help in solving any stuttering issues, prevents the damaging of vinyl, and improves the overall sound quality. The turntable, however, lacks an automatic stop which suggests the record will keep spinning albeit it's ended. It does feature a built-in preamp with a switch that gives the likelihood to also use your external amplifier.

In terms of design, it is a pleasant-looking black color. It features an Audio Technica ATN3652 cartridge which is of great quality for the worth. The turntable supports 33 and 45 rpm records, which is manually adjustable. It also features a USB output port which can be used to digitize vinyl records, a superb extra albeit the Audio Technica turntable mentioned above is more specialized towards this feature. Lastly, the speed and tone control is great for straightforward adjustments and lightweight DJ'ing.
SPECIFICATION:
Brand: Dual
Weight: 6.25kg
Product Dimensions: 5 x 35 x 13.9 cm;
Model Number 75817
Color: black
Power Source: a motor along with a USB
Voltage: 230 Volts
FEATURES:
Used by many musicians as basic features for DJ'ing.
Provide Good audio quality and speed.
Best for its price.
Along with USB output to digitize your records.
Pros
USB control
Digitizing recordings
Easy to use
Damped lift system
Cons
control of the tonearm cause problem
Technica turntable mentioned above is more specialized towards this feature. Lastly, the speed and tone control is great for straightforward adjustments and lightweight DJ'ing.
Audio-Technica ATLP1240USBXP Direct-Drive Professional DJ Turntable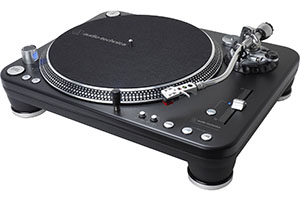 Another best product by well-known brand Audio-Technica. This is a professional turntable with exciting features. This superbly made, professional quality DJ turntable is supposed primarily for DJ useful audience.

The Audio-Technica AT-LP1240-USB Professional DJ Direct-Drive Turntable delivers a variety of features that are for professional DJ applications, casual private listening, and vinyl archiving applications alike. It is made up of a cast-aluminum platter and a direct-drive 16-pole, three-phase motor capable of 33, 45, and 78 rpm speeds. This is highly durable and efficient.

The USB port allows for direct connection to computers, for digitizing purposes vinyl is attached with Audacity software. AT-LP1240-USB built-in phono preamp switch, allowing connection to both line and phono (turntable) inputs on receivers, mixers. It also has some Additional features e dual start / stop controls, removable stylus light, dedicated pickup grounding lug, and more. The Audio-Technica AT-LP1240-USB ships with amazing characteristics.
SPECIFICATION:
Brand: Audio-Technica
Weight: 12.5 Grams
Product Dimensions: 22 x 12 x 19 inches
Model Number ATLP1240USBXP
Color: black
Power Source: Motor
Voltage: 120V
FEATURES:
Direct-drive have high-torque along with multipole motor for DJ use
Built-in Fully manual operation
Start and brake control
Adjustable 33/45/78 rpm speeds
Professional anti-resonance and damped die-cast aluminum platter along with DJ-style slip mat
AT-HS1 universal 1/2″-mount headshell
The body is made up of aluminum
Highly durable and fantastic.
Pros
Brushless DC motor
Manual operation
Professional turntable
Cons
Only for professional use
In short, the Audio-Technica direct-drive turntable is the best. A high-quality product with all advanced features and replaceable parts offers buyers the best value for their money.
Buying Guide to Direct Drive
When you're looking to shop for a replacement direct drive turntable, you've got to think about several factors that affect your choice. The foremost important factors you've got to think about are price, features, and sound quality, build quality, and usefulness, but they're not as important if the most issues listed above aren't considered first.
Price Range
There are four different price points for turntables. At the low end is where you'll find the foremost variety, with an in-depth range of features and sound quality. These products are good for those that want to upgrade their components without breaking the bank.
Brands to look for
It's important to think about the brand of the turntable when making a sale. Three main companies produce turntables: Pioneer, Rega, and Marantz. While these companies make the simplest products available on the market, many other manufacturers produce quality turntables at affordable prices.
Do you really need Direct Drive?
Direct drive turntables are the foremost common sort of turntable available. They directly connect the platter and motor shaft, which allows for very accurate and quick speeds. The platter is connected to the motor, so there's no belt to wear out – just an immediate connection that eliminates vibration from being transmitted to your music.
Best Models to consider
The best direct-drive turntables are Audio-technics Series, SL-1200MK2, Yamaha FS-R1, and Pro-Ject Debut Carbon.
Suggestion for Budget Savy Guys
If you're on a decent budget but still want to concentrate on vinyl records, we recommend looking into semi-automatic turntables. If you're trying to find a reasonable, good-quality semi-automatic turntable, then we recommend under $500 turntables.
OTHER IMPORTANT FACTORS
Pre-Amps: If you would like to attach the turntable to your amplifier, then pre-amps are what you would like. There are two sorts of pre-amps: phono pre-amplifiers and power amplifiers.
Tonearms: The pickup on your tonearm is what plays the record. There are two main sorts of
pickups: vertical and horizontal.
Plinths: The plinth of your turntable is that the base that holds everything together. There are two main sorts of plinths: acrylic and wood. Acrylic plinths are a less expensive alternative to wood and may be used for both direct drive and belt-driven turntables.
Turntable Mats: this prevents "record skips" thanks to potential vibrations. An honest quality mat should be ready to withstand up to 50 pounds of force without distorting.
Stylus Placement: You will place the stylus on the record to make sure that there are not any scratches, and it's a small "click" that will assist you to hear when you've reached the top of a track. There are two main sorts of stylus: Moving Iron and Moving Coil.
Cartridges: The cartridge is installed on your tonearm. Cartridges are available in two main sizes: standard and elliptical. If you're trying to find a high-quality sound system, then we recommend the Audio Technica AT-LP1240-USB Direct Drive Turntable System.
Turntable Size: There are two main sorts of turntable sizes: mid-sized and full-sized. Full-sized turntables will generally have more adjustments to form when you're fixing your system, but they're going to often be of far better quality than their mid-size counterparts.\
Spindle Size: There are two main sizes for spindle size: 33 and 45 RPM. A 33 RPM record will run at half the speed of a forty-five RPM record, so that means it takes less time to urge through a song.

Frequently Asked Questions Related to Direct Drive Turntable:
Do I would like to stream to my audio system, or is that this may be a pure analog experience?
It's 2021 and a real analog system just isn't within the cards for tons of individuals — and that is understandable. Sometimes you only want to stream music from your smartphone or computer and if your audio system can only handle vinyl, that's getting to be annoying.
Should I buy a manual or automatic direct drive turntable?
When talking about a few "manual" or "automatic" direct turntables, it's about the way the turntable lowers the tonearm and therefore the stylus onto the record. A manual turntable is maybe a little more work because you've got to manually lower the tonearm onto the record to start out playing. You furthermore may need to lift the tonearm back to its resting position when the record is over.
How much do I would like to spend?
The overriding concern for what turntable to urge, though, is what proportion you're willing to pay. You'll buy an excellent entry-level turntable with a built-in phono preamp for less than $300, just like the DJT. Otherwise, you can spend tons quite that and obtain, well, how better turntable.
How Do I do know If My Stylus Needs Replacing?
The main reason styli are often purchased separately is that they get worn down and can eventually get to get replaced. Don't worry, most manufacturers offer stylus replacements, even for his or her cartridges that have long been out of production.
Are direct drive Turntable Cartridges Interchangeable?
Yes, as long because the cartridge matches the amount of your record player's tonearm, you'll mix and match consistently with your preferences, no matter the brand. That's what we encourage you to try to do. Exploring and experimentation are a component of enjoyment.
Can I connect my direct drive turntable to speakers?
You can connect your turntable to speakers if, and as long as, your turntable has a built-in preamp and your speakers have a built-in amplifier.
CONCLUSION
For anyone trying to seek out the only Direct-drive turntable, these are top picks that you simply should try. They're convenient units that deliver quality amazing sound system; hence will serve you better. Again, they're compatible through wireless and wired means with most devices thus key selections to believe. They also highly durable units constructed from quality materials.