This dedicated guide on Best Turntables under $200 will help you to select an affordable yet best-performing turntable. Music comes in a wide range of mediums, but there are very few that sound like vinyl. It offers unique warmth that cassettes, CDs, Mp3s, or radio can't compare to.
But, without the turntable, it is impossible to enjoy the music from vinyl. The problem is you have to invest thousands in finding a perfect match for your vinyl. The issue gets worst when you are tight on budget. It may be hard but not impossible to find a decent turntable within your budget.
High-End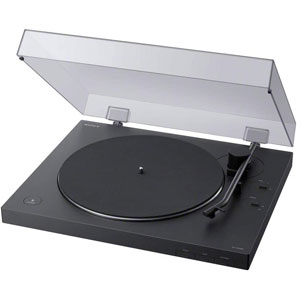 Sony ps-lx310bt Belt Drive Turntable
Easy to set up and use with one-step autoplay, pause and return
Two speeds: 33 1/3 rpm and 45 rpm
Built-in switchable phono output.
Line out phono preamp and 3 gain settings
USB Ripping
Thick Dust cover for protection
Bluetooth enabled
Budget-Friendly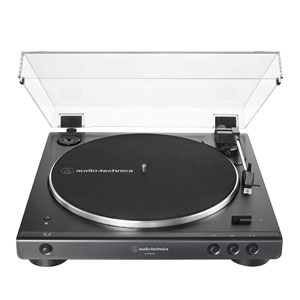 Audio-Technica AT-LP60XBT-BK Turntable
High-quality Audio-Technica cartridge
Redesigned tonearm
Minimize vibration
Compact size
Easy to Operate
Bluetooth output
Compatible with aptX codec
Two speeds: 33 1/3 and 45 RPM
Well, we have tried to find the best-reviewed turntables for you. The quality turntables are selected based on build quality, features, and above all, user reviews.
List of Best Turntables Under $200
| Turntable | Rating | Price |
| --- | --- | --- |
| Sony ps-lx310bt Belt Drive Turntable | ⭐⭐⭐⭐⭐ | |
| Audio-Technica AT-LP60XBT-BK Turntable | ⭐⭐⭐⭐ | |
| Crosley c200 Direct-Drive Turntable | ⭐⭐⭐⭐⭐ | |
| House of Marley Stir it up Turntable | ⭐⭐⭐⭐⭐ | |
| Crosley c100 belt-driven turntable with fully manual operation | ⭐⭐⭐⭐ | |
| Music Hall USB 1 Record Turntable | ⭐⭐⭐⭐ | |
| Stanton T.62 MKII Professional Direct Drive DJ Turntable | ⭐⭐⭐ | |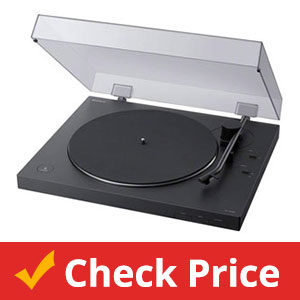 One of the best fully automated budget turntables on the market with excellent sound quality, Sony ps-lx310bt comes with an elegant design. It features an all-plastic, all-black sleek design with buttons that sit flush on the device.
It has a straight aluminum tonearm to deliver stable and productive playback. Its tonearm comes well-balanced and installed stylus.
This also has a durable aluminum platter that works excellently with the belt-driven motor.
The platter is highly stable, minimizing vibration along with the attendant hum and static. Sony offers a thick, tinted dust cover with their product to protect the Turntable and your records.
When it comes to sound quality, PS-LX310BT produces exceptional audio. For an entry-level turntable, this sound quality is good enough with rich tones in the mid and high levels along with the decent bass response.
Though you can connect this Turntable through Bluetooth but plugging it into an amplifier will boost the warmth of the playback.  One of the best features of this best-budget Turntable its easy usability. Out of the box, you just need to pull over the motor pulley and enjoy your favorite music with a warm tone.
There is no need to set the tracking force or fit the cartridge. The automatically controlled tonearm keeps the sound in perfect range. However, if you are not satisfied with it, you can manually adjust the tonearm. Overall, the Sony PS-LX310BT is the best entry-level Turntable for vinyl lovers on a budget.
Key Features:
Duel speed option on 33 1/3 rpm and 45 rpm
Switchable phono output and line out phono preamp throw a brilliant quality sound on 3 gain settings
Record vinyl in digital mp3 files through built-in USB ripping. Now you can take your music on the go.
This Bluetooth enabled turntable to allow you to connect your home stereo and headphone wirelessly or through an RCA cable.
Pros
Easy to set up and use with one-step autoplay, pause and return
Phono stage and Bluetooth
USB Ripping
Thick Dust cover for protection
Bluetooth enabled
Cons
Comes with Limited Stylus Options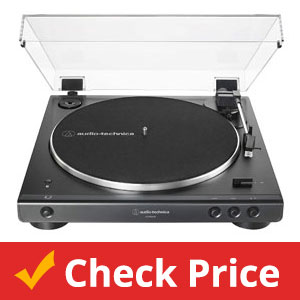 This Bluetooth turntable makes your vinyl listening experience much more enjoyable. Featuring an all-black plastic design along with an anti-resonance, die-cast aluminum platter, this small Turntable has a felt mat to decrease the vibration when playing vintage records. This compact size turntable is an ideal choice for small places.
The player also has a decent, bright dust cover that protects it from dust and debris. Assembling, it is straightforward and easy. This belt-driven Turntable needs a rubber belt that is placed around a motor for a platter to revolve. If you put the belt incorrectly, it will cause the platter to be motionless.
The Turntable offers a fully-balanced tone with an Integral Dual Moving Magnet Phono Cartridge along with the diamond stylus. The built-in preamp is useful for those who don't have any dedicated amp.
When connecting to a high-end stereo system, AT-LP60XBT-BK sounds excellent. It also comes with a 3.5mm audio outline for RCA. But, the quality of the sound on headphones is not so good. Also, there is no dedicated volume knob.
Additional accessories include a detachable RCA output cable, removable hinged dust cover, and 45 RPM adapter. Overall, the Audio-Technica AT-LP60XBT-BK is an excellent turntable for those who are looking to bridge analog sound with the Bluetooth system.
Key Features:
High-quality audio output from Bluetooth and duel RSA output cable.
Two speed automated operation: 33 1/3 and 45 RPM
aptX codec A2DP Bluetooth compatibility.
Anti-resonance friendly with quality die-cast aluminum platter
Pros
High-quality Audio-Technica cartridge
Redesigned tonearm
Minimize vibration
Compact size
Easy to Operate
Bluetooth output
Cons
No built-in speakers. But it has a quality preamp for external speakers.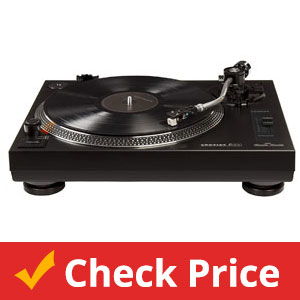 This Crosley turntable comes with everything you need to play classic old-school vinyl. It is easy to operate, performs excellent, and doesn't have any unnecessary features to make it fancy.
Crosley is famous for producing elegant design and utilitarian products. This Turntable was made to give home users a chance to hear their favorite music within their range.
One of the distinguishing features of this is the warp drive. This drive is ideal for bringing your records up to the proper speed as quickly and smoothly as possible.
The arm doesn't return to the starting position automatically when the record is finished playing. This feature is an ideal choice for DJs.
The Audio-Technica Magnetic Cartridge is used to ensure the perfect balance of the system. You can also switch things up by changing the cartridge. To make fine-tuning perfect, there are adjustable counterweights attached to its tonearm.
The design of the Turntable is sleek with elegant lines. There are no extra buttons and set in it, which makes it easy to operate. Whether you play with the lid on or off, the C200A-BK offers an impressive listening experience.
Another great feature is its compact size, which helps to store it effortlessly. Additional features include a built-in switchable phone pre-amplifier, damped die-cast aluminum platter, and detachable RCA output cables.
Key Features:
This direct drive turntable is great for mixing and mashing up your very own collection.
C200 turntable uses an Audio-Technica 3600 moving magnet cartridge with adjustable weight.
The featured preamp allows you to bring C200 on parties. You don't have to carry a separate amp. On top of that, we interviewed people and surf the web to find reviews on the preamp. Surprising, it is more than you pay for it.
Pros
Fully manual operation with start/stop control
Balanced S-Shaped tone arm with hydraulic lift control
Built-in Switchable Phono Pre-amplifier with Detachable RCA Output cables
Cons
Very Short RCA cables
No Bluetooth
In need of some other turntables? checkout our extensive reviews.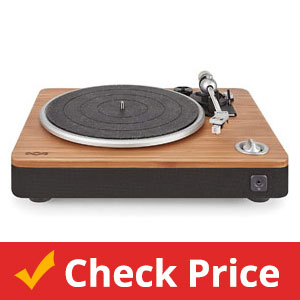 Relevantly new on the market, House of Marley was founded in 2012. One of the best features of House of Marley Stir It Up is its unique design. Eco-friendly bamboo has been used in manufacturing the top of this Turntable.
Both sides and bottom are covered in a cloth created from organic cotton and hemp. Its recycled aluminum platters are good, and the slip is made from the mixture of recycled rubber and plastic.
This belt-driven Turntable is manual, which means you have to raise and lower the tonearm. Though it may be frustrating for beginners it's a part of fun.
You can connect the speaker or receive it through the RCA outputs located at the back of the instrument. Also, there is a 3.5 mm headphone jack attached at the front. The USB port helps to connect the Turntable to your computer and rip the music to digital format.
One thing that makes Stir It Up unique from other budget-friendly turntables is that it offers decent room for upgrade. For instance, the Audio Technica ATN3600L cartridge is replaceable, which means you improve the sound quality.
But, the odd side is there is no Bluetooth connectivity. All of this fantastic design, eco-friendliness, and elegant packing are good, but this is Turntable doesn't deliver a powerful audio performance like others have in this price range.
Key Features:
USB ripping is the most highlighted feature of House of Marley Signature Black turnable. It is a great combo with a classic look but modern features.
5 mm headphone jack is located on the front which is quite handy.
Upgrade stylus makes it upgradable and never let it get old.
Auto power-down feature here for saving energy
Pros
Comes with a durable build quality
Offers decent sound for the price
The cartridge can be upgraded
Made with eco-friendly materials
The wood finish is really nice
Cons
There is no Bluetooth option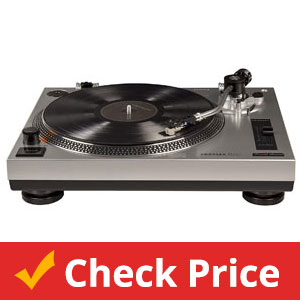 It's time to enjoy your favorite vinyl records with the silver Crosley c100 belt-drive turntable. Featuring a belt-driven design, this comes with a belt-driven design along with a switchable stereo RCA to connect preamp or compatible home system. The S-shaped tonearm comes with an adjustable counterweight system for perfect balance.
This C100 features a built-in preamp to blast with powered speakers. You can also plug in your preamp and flip a switch to enjoy your music on your terms.
ABS construction gives this a solid foundation. Just lift up the transparent lid to control the tunes or shut it for protecting records.
Using a belt-driven system, it turns at 2 speeds to play 33 1/3 rpm LPs and also 45 rpm singles. This is also equipped with the diamond-tipped Audio Technica needle to offer every detail of each cut.
The adjustable pitch control comes with a strobe lighting beaming elegantly onto the platter dots to tame the finicky albums that tweak low or high. Thus it gives each note a perfect sound. Last but not least, its S-shaped tonearm perfectly resists skating and helps to preserve your music and records.
Key Features:
It is belt-driven fully manual operations that play on 2 speeds.
Detachable RSA cable and switchable phono pre-amplifier.
Make it sound greater with pitch control
Pros
for beginners with minimal yet fully-featured options
Great value for the money
Adjustable Strobe Pitch with Built-in Pre-Amp
Limited 1-year warranty
Cons
Doesn't have independent speakers
No Bluetooth in this model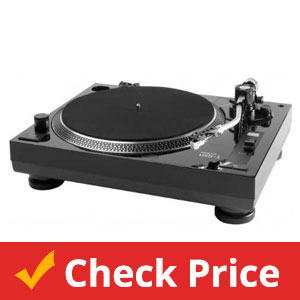 This well-made Turntable by Music Hall is famous for its premium quality material. Featuring two speeds of 33 and 45 rpm, it comes with a classic static well-balanced S-shaped tonearm. It also has a 45rpm adapter for those who want interchanging between the two speeds.
Adjustable pitch control, along with the anti-skating control, helps to increase the stereo balance. To improve the performance level, Music Hall has added a built-in phono preamp with 3.4mm RCA stereo outputs. Users can easily interchange between these two to get an ideal amplifier response.
The two most exciting features of this best Turntable include a USB connection and the Audacity software. Using this USB output along with the internal analog systems and Audacity software, it is easy to make digital copies of the vinyl recordings.
Music Hall USB 1 Record Turntable also features an aluminum die-cast platter, dust cover, and a slipmat. In fact, it is one of the best turntables for ripping your old vinyl records to digital formats. Using iTunes, you can quickly transfer them to your iOS device.
Key Features:
Belt driven motors used to make noise but we are quite impressed with its extremely quiet drive.
It has an option to encode mp3 and transfer it to apple products.
Pros
Ultra-quiet belt drive with 2-speed options
Best for ripping old vinyl records
USB output for Computer connection
Adjustable tracking force and anti-skating
Comes with an Audacity recording software for Mac and PC
Cons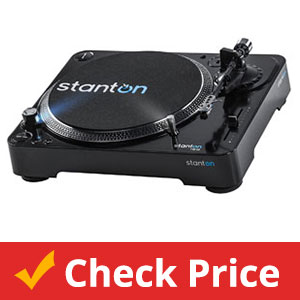 As the name suggests, this is the best Turntable for DJs. Offering a sleek and straightforward design with an all-black top with gray controls, this is a perfect choice for a home entertainment system. The pre-mounted 300 cartridge and screams quality gives this system a premium feel and look of the expensive turntables.
It comes with a manual pitch fader to decrease or increase the playback pitch by 10% along with dual stop-start switches for two people scratching. It also has RCA stereo outputs with RCA cables, but there is no headphone out or line in. Neither USB option nor built-in speaker has been added, which are commonly found in most turntables at this price.
When it comes to performance, there are only a few turntables that compete Stanton T62. It has a nicely weighted tonearm, elegant pre-mounted cartridge with great sound quality. All the controls are smooth, and the switches are easy to access.
Though you can find similar turntables in this price range with great features, the overall design, build, and sound quality with the sleek design of the Stanton's T62 is hard to compare. In simple words, this turntable offers the versatility of high-end products at such affordable prices.
Key Features:
An affordable Direct drive scratchable turntable for DJs from a reputed company with licensed decadence DVS software.
Pros
Excellent build and sound quality
Best Turntable for DJs
Straight tonearm to enhance tracking for scratching
Features a Manual Pitch Control Fader
Pre-mounted Stanton 300 Cartridge
Cons
No USB Port, headphone jack and Bluetooth
Conclusion:
There are different turntable brands out on the market, offering Budget Turntables with unique features. The best thing you can do is to consider your needs like desired features, budget, and brand before making a decision. Remember, expensive doesn't always mean the best on the market but if you're flexible with the price point of view we also have some great options for turntables under $500.
These quality turntables can certainly meet your demands by offering high-quality sound with great features. So, Which of the turntable you are going to buy? Tell us in the comments, would love to hear it from you.
Happy Music!