There is a lot of talk about turntables these days. People have shifted again toward the analog, and once again, records are the talk of the town. Various companies are offering new and improved turntables when you look around for a turntable. You can choose between various styles and sizes in every budget, whether you prefer the classic or the modern aesthetic.
Choosing an economical and reliable turntable may be difficult for many first-time hobbyists and newbies. The same is true for intermediates who already own a turntable but want to improve it slightly. Isn't it?
We have put together a list of the best budget turntables that will get you up and running, so you can enjoy your record collection. We have devised a list in such a way that you can choose from the price range from a cheap record player of about $100 to the best turntable of about $1000. In addition, we are enlisting the factors to know before buying the turntable and guide about the setting the Turntable efficiently later in the article to So keep Reading till the end.
Reviewing the Best Budget Turntable 2022
We have ordered the samples of each category and tested each turntable under different conditions to explore the turntable's quality. In addition, we counter-check the specifications and features listed on the manuals to provide the most authentic review in front of you for the Best Budget Turntables in the different price brackets.
Pioneer DJ PLX-1000 – High-torque Direct-drive Analog Turntable| Best turntable under $1000
Specifications and Features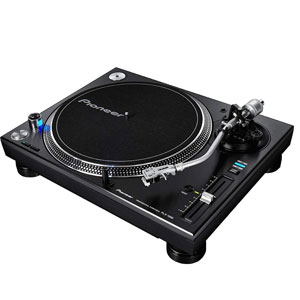 Drive System: It is a Direct Drive Turntable
High Torque: for complete stability and smooth experience.
Die Cast Zinc Chasis: for complete noise-proof sound
Gold-Plated RCA: to connect the external speakers and devices
Width & Height: 17.83 in and 6.26 in respectively
Platter: die-cast platter for anti-resonance and better sound quality
Speed of the Turntable: 2-speed, 331/3 and 45
Wow & Flutter: 0.01, which is ideal for smooth record playing.
Multi-tempo Control: for speed control and to reset to 0% at once
Unboxing: Pioneer has the reputation of making reliable and durable turntables, so we decided to review this turntable. When we unboxed the Pioneer DJ PLX-100, we received PLX-1000 with a Power cord Audio cable, Ground wire, and Adapter for EP record. In addition, there was a Turntable sheet and Slipmat and Dust cover for dust protection.
After setting up the turntable that was a breeze, we tested its direct-drive motor that provides the essential speed to this turntable, and without the belt, it was quieter. Some enticing features include zinc chassis with high torque motor and platter serving as the anti-vibration.
We also tested the hype of wow and flutter that turned fascinating and conforming the 0.01% showing smooth and balanced music experience. In addition, the multi-tempo control can increase the speed to multiple ranges like ±8, ±16, and  ±50 %, respectively.
If you want to explore more turntables under this budget, you can check our detailed guide on Best turntables under $1000.
What we like
It conforms with low noise specifications, which brings a smooth music experience.
We found it to be exact, well-made, and sturdy whether you are DJ or not.
It has a multi-tempo that lets you control the speed of the track.
What we dislike
We found it challenging to set up or was a bit time taking.
We have to buy the cartridge separately that increases the budget.
Final Verdict| Best Direct Driven Turntable for Entry-Level
We have found this turntable very reliable and sturdy under $1000 because of its extensive features like high torque drive and servo motor.
Fluance RT81 Elite High Fidelity Vinyl Turntable Record Player| Best turntable under $500
Specifications and Features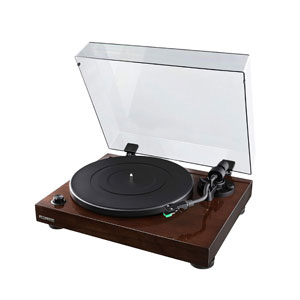 Speed of the Turntable: 3-speed Turntable, 33, 45 &78rpm
Drive System: It is a Belt-Driven turntable
Wow & Flutter: 0.2% is quite acceptable for better quality.
Platter: Aluminium Platter for better vibration and noise-free.
Auto-Stop:  it brings ease for the user.
Anti-skating Adjustment: it doesn't allow the tonearm to wander on the record.
Cueing Lever: It helps in lowering and raising the tonearm.
Dual MM Cartridge: for better conversion of electrical signals to music.
RCA Jack: for connecting the stereo speakers.
Stylus: 0.4 × 0.7mil Bonded Elliptical
Dust Cover: protects from dust and increases the life of the turntable.
Dimensions: 5.5 x 16.5 x 13.75 inches
Unboxing: when we ordered this 3-speed turntable, we made a list of features to test, and we did and now presenting you with what we experienced. We unboxed the Fluance RT81 and received RT81 Turntable with the Dust Cover and adapter. In addition, there was Rubber Slip Mat with a 3ft RCA Cable With Ground Wire. There was also a quick setup guide that helped us a lot.
We tested this belt-driven with all three speeds and used turntables of different sizes to know better the sound quality and noise interference. We have found this turntable to be of outstanding caliber and better manufacturing with only 0.2% wow and flutter that describe how better a turntable is.
The features that intrigue us include the auto-stop and anti-skating adjustment that provided us better user experience. The cueing lever that usually most of the turntable manufacturers don't bother to provide, but Fluance RT81 has to raise and lower the tonearm that brings ease of use.
If you want to explore more turntables under this budget, you can check our detailed guide on Best turntable under $500.
What we like
We found it easy to set up and have better stylus functioning like anti-skating.
It is made up of a solid plinth that makes it sturdy and long-lasting.
There is an auto-stop function that reduces users' stress.
What we dislike
Preamp causes problems, and we have to get the separate one for a better experience.
Final Verdict| Best Mid-range Turntable for Enthusiasts
If we have to rate this turntable, then we'll rate this as the mid-level or intermediate level turntable with better noise-proof capability.
Audio-Technica AT-LP120XUSB-BK Direct-Drive Turntable| Best turntable under $400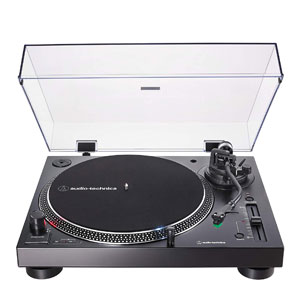 Specifications and Features
Speed of the Turntable: 3-speed, 33,45 & &78rpm
Drive Mechanism: it comes in a belt-driven mechanism
Built-in USB: to transfer your records music to Pc for the future.
Anti-skating Adjustment: the force to keep the tonearm stable.
Phono Preamp: provides a better connection with amplifier.
Dual Magnet Cartridge: for better conversion of electrical signals
Platter: aluminum die-cast made for a better anti-resonance effect.
Tonearm: 0.3 x 0.7 mil elliptical stylus
Dimensions: 13.86 x 17.8 x 5.57 inches
Target Light: The plug-in target light aids the cueing lever in low light.
Compatible Audacity: Use the free Audacity recording software for Mac and PC to digitize your vinyl albums.
RCA Jack: for connection of the external devices, i.e., speakers.
Unboxing: Audio-Technica turntable is famous for its exemplary sound quality. We ordered and unboxed it to find the truth behind these theories. We have received Turntable, USB cable, detachable RCA output, AC adapter, and 45 RPM adapter. The counterweight felt mat, and the removable hinged dust cover was also in the box.
We set the turntable to uncover the features that include the 3-speed and drive was belt-driven. We wanted to dig deep, so we played it strenuously and found it a satisfactory turntable with a well-made, sturdy structure and dual magnet cartridge that was up to standard in producing better quality sound.
The only issue we encountered was the stylus that could not keep up the pace well and broke, but it was replaceable. On the other hand, the platter was better for handling the pressure and maintaining the less noisy music experience.
If you want to explore more turntables under this budget, you can check our detailed guide on Best turntable under $400.
What we like
We have tried converting records to digital files, and USB functions perfectly.
It is well made and sturdy having a platter of aluminum that makes it less noisy.
You can easily change the stylus, whether it is not entirely efficient.
It has better sound quality than the competitors in this range.
What we dislike
We found it pretty noisy when we kept it playing for a long time.
Stylus brings some needle issues that damaged our record.
RCA also shows some sound problems when connecting with a preamp.
Final Verdict| Best Choice for the Money for Hobbyists
We have concluded that the effective dual Cartridge brings quality that attracts the users or starters.
Crosley C100A-SI Belt-Drive Turntable| Best turntable under $300
Specifications and Features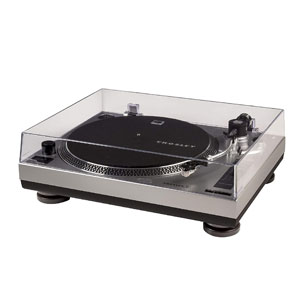 Dimensions: 17.75″ W x 13.75″ D x 6.00″ H
Speed of the Turntable: 2-Speed Turntable (33 1/3 & 45 RPM)
Adjustable Anti-Skate: for keeping the tonearm on the grooves.
Magnet Cartridge: Ensures flawless audio quality.
Drive System: It is a Belt-Driven Motor.
Adjustable Pitch Control: for lowering and raising the pitch of the TT
Counterweight: Adjustable Tonearm Counterweight
Aluminum Tonearm: makes it sturdy and reasonable.
Aluminum Platter: for better noiseless music and sound quality.
Switchable Preamp: to make better affiliation with amplifier.
RCA Output: for connection of the devices like stereo speakers.
Unboxing: Crosley is among the most known turntable manufacturers because of its affordable and easy-to-reach turntables. We reviewed its Crosley C100A and unboxed it to get the C100 Turntable, Slip Mat, and Turntable Lid. Furthermore, there were 45 RPM Adaptor, Counterweight for the tonearm, and the Headshell.
By looking at the User Manual, we set the turntable to use. We discovered it to be 2-speed and belt-driven turntable with an aluminum tonearm. It has general features like most of the Crosley turntable, and once we found it interesting, the adjustable pitch control helps the user control the speed.
We tested different features and found some of the average and some quite fascinating, like adjustable anti-skating was on the money.  The counterweights worked aesthetically well on the tonearm that preserved our record collection.
If you want to explore more turntables under this budget, you can check our detailed guide on Best turntable under $300.
What we like
It has an efficient tonearm counterweight that balances it well on the groove.
We discovered an adjustable pitch control that eases users to control the speed.
Anti-skating and low-vibration synchronous motor work well with platter and vibration control feet for less vibration and oomph.
What we dislike
It gives a plastic look that gives the tilted look toward toy turntables.
The tonearm does not go back to starting place that increases user strain.
Final Verdict| Best for the Starters Only
We have found it to be made up of plastic that gives it a toy-like look but works great, so if you are looking for a turntable that can increase your interest at the lowest price, you may go for it.
Sony PS-LX310BT Belt Drive Turntable| Best turntable under $200
Specifications and Features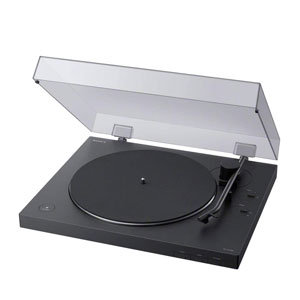 One-Step Autoplay:  for a better quick play of your music
Speed of the Turntable: 2-speed, 33 and 45
Built-in Bluetooth: for connecting the modern devices.
Aluminum Platter: it helps in reducing noise and keeping balance.
Dust Cover: for keeping the turntable dust-free, that increases its life.
Aluminum Tonearm: enhances the robustness that preserves the records.
Dimension: 430 mm x 108 mm x 367 mm
Drive System: it is a belt-driven turntable.
RCA Jack: for external connection to the non-Bluetooth devices.
Built-in Phono Preamp: it provides the connection with the contemporary amplifiers.
Auto-Return: It comes back to the start point after completing the track.
Built-in USB: for transferring the records to the digital discs and computers.
Unboxing: Sony produces high-end turntables and usually costs a high fortune. When we ordered this for review, we expected it to be the ordinary one with this price range of just under $200
Sony once again amazed us upon unboxing because the turntable was fully automatic and the Bluetooth capability that usually comes with expensive high-end turntables.
We have found some features very intriguing that include auto-return and One-step Autoplay that makes them different from other competitors in this range.
The Belt-driven turntable was equipped with features like USB and had an Aluminum platter that reduces the noise to increase the music experience. In addition, the RCA and phono preamp helps to get a better connection with the amplifiers.
If you want to explore more turntables under this budget, you can check our detailed guide on Best turntable under $200.
What we like
The Bluetooth and auto-return were impressive, increasing ease to connect and user stress.
It comes at a very reasonable cost that justifies its flaws, if there are.
It has relatively better sound quality than others in the same category.
What we dislike
The plastic-made structure makes it vulnerable to breakage.
Final Verdict| Best Low-range Turntable
Relatively modern features like Bluetooth and one-step autoplay make it ideal for people looking to enhance their taste in the vinyl.
Audio-Technica AT-LP60XUSB-BK Fully Automatic Belt-Drive Stereo Turntable| Best turntable under $100
Specifications and Features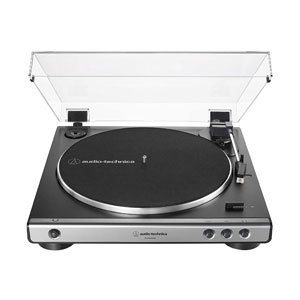 Mode: it is a fully automatic turntable.
Speed of the Turntable: 2-speed turntable, 33 and 45
AC Adapter: it also adapts to decrease the noise while playing.
Switchable Phono-Preamp: It helps in making better connections with the amplifiers.
RCA Jack helps connect the stereo external speakers and devices for sound.
Audacity Recording Software: To convert the audio files into the digital mode to preserve them for the future.
Die-cast Platter: it reduces the noise and extra sound of the oomph.
Headshell: it keeps the cartridge mounted and reduces the noise too.
Drive Mechanism: it is a belt-driven turntable.
Wow and Flutter:  the wow and flutter shows how good the system works concerning speed variations.
USB function: for transferring audio files to the computer PC.
Unboxing: when you look for the best budget record player under $100, you need to be very picky and vigilant about the quality of the turntables. Most of these turntables turned to be toy turntables. But Audio-Technica brings this turntable to be fully automatic. When we unboxed it, we found Turntable, a detachable RCA output cable, 45 RPM adapter, and a dust cover for keeping it dustproof.
We tested this 2-speed turntable and found it out to be the reasonable turnable in this range because of its extensive features like wow and flutter and Hi-Fi Audio, which are high-end features added to this turntable.
If you want to explore more turntables under this budget, you can check our detailed guide on Best turntable under $100.
What we like
We found its automatic features are worth considering if you are into vinyl.
The most important factor is its price, which is a deal-maker.
It has better sound quality than the turntables in the same range.
What we dislike
We had some issues with analog output clipping that were a little tough to deal with.
Final Verdict| Best Bluetooth Turntable under $100
When it comes to price and a list of features, we examined it as one of the finest Bluetooth turntables at this most affordable price range.
Buying Guide| Factors to Keep in Mind Before Buying Turntables
You can not just buy some random turntable without knowing the proper attributes of the turntables and all the deal-breakers that can make you feel uncomfortable later. We have devised a list of factors to help you choose your favorite one.
Specify Your Needs| Know About Your Requirements
The first and foremost thing as a buyer, you need to keep in mind and plan is what you are looking for? What are your needs? For what purpose do you want the turntable? Sometimes you want a Bluetooth one, but you like the belt-driven without Bluetooth in the higher price ranges that break your bank.
So, plan and specify what you are looking for, whether it's Direct-driven or belt-driven, what features you want in your turntable, and how much you want to spend on the turntables.
For more turntable guides, you can check TurntableGeek.
Budget
Before wetting your feet in the buying process, wait and think about the spending and the budget you have in your mind to get the turntable. There are turntables under $100 to $1000 and more. So, think wisely about how much you want to invest in your turntable. Usually, cheap turntables have flaws and can damage your records, and expensive ones go heavy on your pocket.
Sound of the Turntable
The main reason to buy the turntable is the music, so if the turntable's sound is not up to standard, everything will go in vain. For this reason, you need to inspect which turntable produces the better sound quality and how it goes with the amplifiers and external stereo speakers.
Speed
When shopping for a turntable, the turntable's speed is an important consideration to bear in mind. Most turntables spin at speeds ranging from 33 to 45 revolutions per minute, while others spin at 78 revolutions per minute, depending on the manufacturer. You should examine your preferences and the kind of vinyl you have when purchasing a turntable before deciding where you want to land.
Bluetooth and Automatic Features
Almost all modern devices have the Bluetooth feature, so look for the turntable with Bluetooth and connectivity compatibility. It helps you connect your phone with turntables to jam around at your place. Most new turntables have Bluetooth and connectivity compatibility, so go for the one with no vice of adaptability with contemporary devices.
The features like auto-return of the tonearm, one-step play, and others should be in the turntable, but they mainly come with the price, so better devise a list of which features you want or not.
Brand Reputation| Brand Comparison of the Turntables
Well, before choosing a turntable, you need to look for the brand of the device. If you are new to vinyl, you better dig deep into the brands and their specific distinguishing factors.
Some brands make budget-friendly turntables that become their benchmark, like Crosley, and they produce budget-friendly or affordable turntables. On the other hand, Sony makes the expensive, but their technology and reliability impact the market.
In addition, the Audio-Technica has the reputation of the durability and modern features equipped turntables for the users. The Pioneer came with sleek designs with complete durability and is considered one of the top brands of turntables. Moreover, Fluance also has the better quality and affordable turntables in the market.
You can research and trust different brands in the market according to your needs and requirements. So, try to know what you are buying.
How to Setup Turntable?
Before setting up the turntable, you need to know that there are four main parts of the vinyl setup: Turntable, Preamp, Amplifier, and Speaker. You need to put these four things into the formation to get the Vinyl Setup or Turntable general setup.
Place the turntable on the plain level surface. Set up your preamp and plug your turntable into the preamp with the help of RCA cables. Then connect the RCA to another side of the amplifier. After that, connect your amplifier or receive it with your passive external speakers. Place your record. Balance the Tonearm on the record, and you are good to go.
Conclusion
We hope you have learned about the different categories and the price ranges with the detailed descriptions by now. This list wasn't easy to come, we have reviewed different turntables thoroughly and self-tested numerous turntables to get the most suitable list. In addition, we have provided you with the brand comparison and how to set up the turntable in a general way with the comprehensive buying guide. Do choose what comes in your range and enjoy.
This fully automatic turntable with a wide range of features is quite impressive. You get the audacity recording software capability that makes storing the old record music quite helpful. In addition to these, we also liked its aluminum platter that reduces the turntable's noise.