Several different turntables with varying features are available for entry-level record players. These turntables might not have high-end or advanced features, but they are a suitable basic foundation for those new to the hobby or just starting their turntable journey.
In this article, I'll be reviewing and comparing Pro Ject Debut Carbon vs U-turn Orbit for you all. I'll provide you with my personal experience with explicit, detailed features analysis. In addition, there is a description of the pros and cons with my recommendation for you at the end. 
Pro Ject Debut Carbon Turntable: Pros and Cons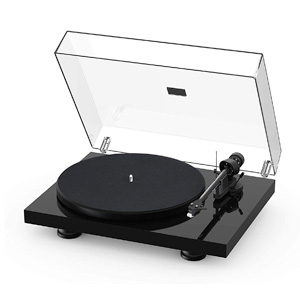 Pro Ject Debut Carbon is one of the first hi-fi Pro Ject turntables working on the belt-driven mechanism comprising the carbon tonearm that makes the quality better and more evident. Furthermore, it has come up with quite interesting features that make this 2-speed(33 ⅓, 45rpm) turntable a pretty reasonable choice in this price range. 
The cartridge is one of the most impactful features of the turntable. It defines the quality of the music, and surprisingly, this turntable comes with Ortofon 2M red (upgradable). 
The platter size is more extensive and heavier, making the music experience better and resonance-free. For better tracking force and preventing record-wearing, it comes with counterweights that keep the stylus on the grooves. Wow and flutter, often referred to as sway, are acceptable to produce better sound quality and less humming.
No turntable comes with the downsides, it does not come with Preamp, and you have to buy separately, which increases the cost. 
U-Turn Orbit Turntable: Pros and Cons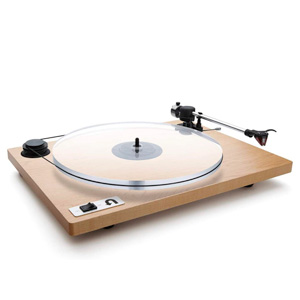 U-turn is one of the new companies that started manufacturing turntables and has shown impressive growth. The U turn Orbit Turntable is one of the basic turntables they manufactured. When you look down at the turntable price, it is pretty reasonable, making it an affordable option for budget beginners.
This 2-speed turntable works on the belt-driven mechanism and has considerable sound quality. The tonearm plays an essential role in the quality of the music or sound quality, and it comes with an OA2 gimbal tonearm. This metal tonearm has quite an impact on the better performance of the turntable. 
The U turn orbit cartridge, a universal feature of this turntable, is an Audio-Technica cartridge. As we know, Audio-Technica is the mother brand and produces quality products. Its influence is shown in the form of improved audio quality.
On the other hand, there are a number of weaknesses to it. When you discuss the build quality, it has average build quality. It does not come with a cue lever that makes your record vulnerable to wear out.
Comes with an MDF platter that makes it quieter, but when comparing it with Pro Ject Carbon, the carbon has an edge, but overall, it is finely made. It does not come up with the built-in preamp that you need to buy separately to connect to the external speaker system.
Our Final Verdict and Recommendation
We have been using varieties of record players for a long time now, and we keep ourselves updated on the new turntable technologies. It is evident that these turntables do not possess those high-end qualities like a built-in preamp to play it on external speakers or systems and a USB port for transferring your records to your PC. Our music experience with both turntables has been great, and we found it perfect for entry-level hobbyists.
Our recommendations from these both turntables will be with Pro Ject Debut Carbon because of its better build quality and heavy platter that lacks in the U-turn Orbit.