The Pioneer PLX-500 is a top-of-the-line turntable built on Pioneer's extensive history of high-end turntables to create a unique product. It has a comprehensive architecture, including a direct drive motor with high torque and multi-pitch control.
My own favorite record player, the Pioneer PLX 500, is the one I reach for on a regular basis. This turntable provides the best music experience. I put forth a lot of effort into researching and writing this review for you. I hope you like it. So do not stop reading just yet!
Pioneer Plx-500 Review | Best for Home Use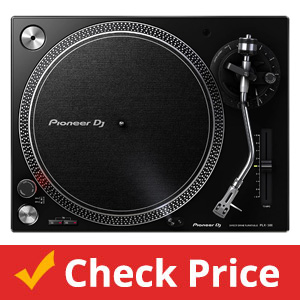 The Pioneer PLX-500 is a fantastic entry-level turntable that offers outstanding value for money. There is a pitch-control slider on the side of the unit, an S-shaped tonearm, and direct audio wiring from the tonearm on this model. Furthermore, the PLX-500 has a higher-quality moving magnet cartridge.
A brushless direct current motor is installed in the PLX-500. When the stop button is pushed, an electronic brake is applied to the tonearm, which is servo-controlled and is quite efficient. The Pioneer PLX 500 is a plug-and-play device equipped with integrated preamps and a USB interface.
It can withstand extreme platter swaying and scratch operations. Comes with a headshell and needle and a USB-out connector for connecting to a computer. It comes with Rekordbox DJ software pre-installed and a few additional accessories.
Key Features
Drive Method: it is a direct-drive turntable.
Platter: Aluminium platter for better noise-free sound 
Braking System: Electronic brake to stop.
Speed of the turntable: 3-speed 33⅓, 45, 78 rpm
Wow and Flutter: less than  0.15% 
Tone Arm: S-shape tonearm
USB: for converting your records to digital files on a PC
RCA: for connecting stereo speakers
Significance of PLX-500
Certain features make this turntable stand out from the rest. The most prominent of them are as follow:
Portability 
The Pioneer PLX-500 features a high build quality. When it comes to portability, the Pioneer PLX-500 has direct audio wiring from the tonearm to the output line and lighter and more compact construction than PLX 1000.
Durability and Build Quality 
Although the Pioneer PLX-500 lacks a sub-chassis, it is entirely constructed of plastic and MDF and is very resistant to interference.  Additionally, it includes a height-adjustable plinth and a height-adjustable height. 
Connectivity 
The Pioneer PLX-500 has a solid construction and a solid, traditional design. It is built with excellent sound compatibility with Macs and PCs. Both pioneer Plx 1000 vs 500 are compatible with various media formats, including CDs. PLx 500 also features a high-end treble and is very stable.
Key things to keep in mind
Pioneer Plx-500 Bluetooth: It does not come with a built-in Bluetooth capability.
It is not ideal to DJing on the Plx-500. 
Pioneer Plx-500 problems in the scratching are obvious as it has less torque.
Final Verdict 
Pioneer PLX-500 specs and features are pretty impressive. The PLX-500 is an excellent choice for home use. If you are looking for a general turntable for simple vinyl playing, you better choose Pioneer PLX-500 because of its sturdy structure and portability.