The preamp comes in the essential parts of the vinyl setup. Preamp plays an essential role in producing the most satisfying music experience. A vinyl Enthusiast can understand the importance of the preamp in the setup. So, in this article, I compare two different preamps, Pro-ject Tube Box S2 and Tube Box DS. Pro-Ject has a credible reputation in front of vinyl users.
Tidbit: Preamp is the device that enhances the weak signals and makes them louder.
Having used these preamplifiers with various turntables, I will describe my experience. Since we have been talking about turntables for a while, I have compared these two phono preamps.
Pro-Ject Tube Box S2
When it comes to the Pro-ject Tube Box S2 that I have been using for a while now, it is working quite fine. As the name suggests, it comes with replaceable vacuum tubes that help it balance and amplify the sound of your record.
The main feature I oblige about this preamp is its five distinct input impedance settings that help me adjust my MM Ortofon Cartridge. The Subsonic filter of about 20 Hz also improves sound quality when it restricts the lower frequencies or rumbles.
I play records of my favorite band, The Beatles, and listen to the "Here comes the sun," the sandwich aluminum casing and Ultra low noise circuitry with FET input stage keep the interference away, making a viable sturdy preamp for me.
Key Features and Specs
Works with both  MM and MC cartridges
Precise RIAA equalization
2x ECC83 tubes
Front-sided Subsonic filter button for better sound
Front-sided Gain control
Dual mono circuitry
Polystyrene capacitors
Gold-plated RCA
Pro-Ject Tube Box DS
The most significant feature that induces me toward this preamp is selecting input impedance for my MC cartridge while listening to some music. Like Pro-ject tube S2, this preamp also comes with the switchable subsonic that prevents the low rumble of the music.
My experience with this fantastic preamp is up to standard, and I'm looking forward to keeping it for long. The Gold plated RCA provides a premium music experience when connecting with your external speakers.
The tubes are pretty challenging to replace, so I have to move them back and forth to make them lose. But in the S2 case, It is much more effortless than this.
Key Features and Specs
MM & MC support
Switchable subsonic filter
Precise RIAA equalization
Ultra low noise circuitry
ECC 83 tube output stage
Input impedance adjustment
Gold plated RCA sockets
Metal casing
Portability| Pro Ject Tube Box S2 vs. DS
The S2 weighs about 410 g, and the DS weighs about 1100 g, making it heavier than the tube box S2, making it a better portable option. But with lighter weight, the performance and vibration control also weakens.
Tip: if you are setting the Tube Box, you need to see the manual carefully where you can see the examples of the Gain Setting with an Ortofon cartridge that helps a lot.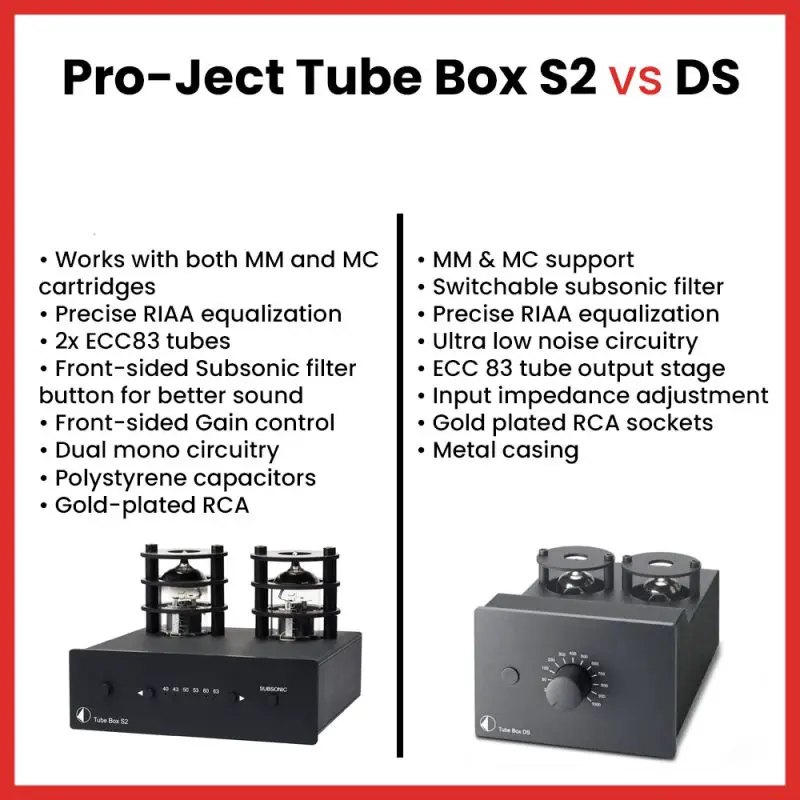 Clarity and User Friendliness
When it comes to clarity, the DS has a better clear front and back setup than S2, but when it comes to ease of use, like tubes replacement, the S2 has the edge over the DS.
You may also check these comparisons that we have covered on our website:
Design and Build-Quality
In this settlement, both are credited with a solid body made up of metal casing that makes them sturdy and robust. But with better portability and sleek sandwich design, S2 is at a higher place.
Final Verdict
I have found Pro-Ject Tube Box S2 to be a better, portable, and better music experience. You can use different turntables simultaneously without interference and noise because of different impedance settings and Dual mono circuitry for better channel optimization.