Lately, I was going to upgrade my Pro-Ject Debut Carbon to the new inspiring Pro-ject Debut Carbon Evo. One of my friends convinced me to get Fluance RT85 by outlining specific characteristics that I found appealing, and I agreed. I have been using it for quite some time now, and it is not a bad option. There is no denying that both turntables are high-quality and stunning in their way. Which one is the right choice?
I decided to write a comparison between the Fluance Rt85 and the Pro-Ject Debut Carbon based on my observations and findings. Here it is.
Fluance vs. Pro-Ject | Comparison of Key Features
In order to have a better understanding of the features and performance of these turntables, I played a large number of records on them. The comparative analysis of the features is:
Speed of the Turntables
The Pro-project Debut Carbon has the edge over my Fluance Rt85 in terms of speed since I can play all three speeds 33, 45, and 78 on it. Compared to Fluance RT85, ProJect performs better in terms of speed.
Cartridge Type
The cartridge is either the deal maker or the deal-breaker for turntables. However, the Ortofon 2M cartridge is the same in both players. Consequently, they are on the same page, and both are reliable in this sense.
Tonearm Material
It is no surprise that the Pro-Ject Tonearm has a well-deserved reputation as the ideal Carbon-made Tonearm. In contrast, I now use a Fluance tonearm made of aluminum, which works well, although I am leaning toward the Pro-ject in this regard.
Driven Mechanism
These two models are belt-driven. In other words, both are effective, but Pro-ject appears to be noise-repelling.
Build Quality of TT
MDF is used in manufacturing both the Fluance Rt85 and the Pro-project Debut Carbon, making them more appropriate. They turned out to be very long-lasting and sturdy under my severe use.
Plater and Sound Dampening Aspects
The acrylic platter and anti-skating counterweights of the Fluance turned out to be the most cost-effective feature of this turntable, and this is what made me fall in love with it. The platter and tonearm work perfectly together.
Its high-quality performance makes it a better option than the Pro-Ject Carbon, which has a steel platter weighing 1.7Kg and is slightly heavier than the Fluance RT85 platter. Furthermore, its RCA and TPE work together to eliminate undesirable vibrations and resonance, making it ultimately a fine pick.
Automatic Features
Neither turntable is automatic, except for a feature on the Fluance RT85 that allows auto-stop the record when finished, which saves time and keeps vinyl from getting weary and damaged. Fluance does have the upper hand over Pro-Ject because of this.
Wow and Flutter
Both turntables have a wow and flutter rate of around 0.07 percent, as stated in the specifications. It is within the acceptable range for these types of turntables. Overall, Fluance provides a better music experience and sound quality.
The difference in Sound Quality
Compared to Pro-ject, Fluance RT85 offers significantly better music and sound quality, particularly bass and clarity. Consequently, it is superior to Pro-Ject since it generates less hum.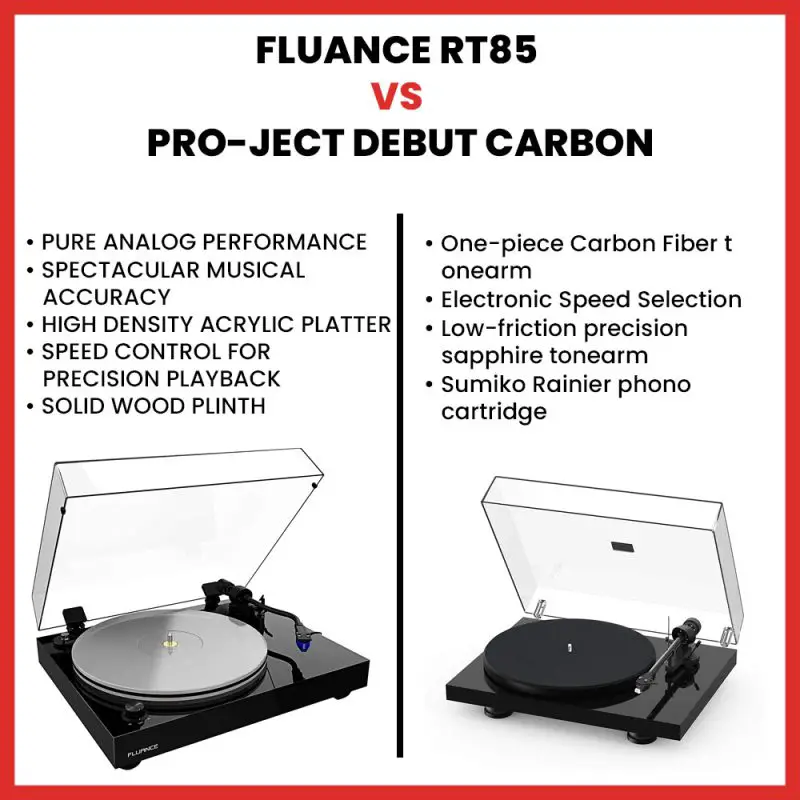 What I like and Dislike in Pro-Ject Debut Carbon
Pros
Tonearms and needles are surprisingly durable and robust.
It comes with 3 speeds, which is a likable feature.
Cons
It would be great if it had an auto-stop feature.
What I like and Dislike in Fluance RT85
Pros
It ensures that the cartridges are high quality and have good sound quality.
The heavy platter keeps the music experience noise-free and doesn't require a mat.
Cons
 Your precious records could be at risk because of the flimsy tonearm.
Features Not Found in Both
Neither of these turntables has any of the following features that could make the difference in choosing one.
USB Functionality
These turntables are not equipped with USB connectivity. If you want to convert your vinyl records into digital files, you need to look for other options for your music taste.
Preamp        
You have to buy the preamp separately for both the turntables, so if you have your preamp settlement in the receiver, then it's fine. Otherwise, you have to buy separately, which can break your bank.
You may also check:
What's the difference between Vinyl VS FLAC
Pioneer plx 500 vs 1000 – Which is best?
Final Verdict| Which Turntable Is the Best in the Business?
I found both Fluance Rt85 and Pro-ject Debut Carbon value for money. The Fluance RT85 surpasses the Pro-Ject Debut Carbon in terms of sound quality and performance, making it the Perfect Choice. Its Acrylic Platter and fine cartridge make it a good pick for vinyl enthusiasts.