Music is known as the best source of reducing stress and giving you relief from anxiety. Many people prefer to listen to music while working so that their work may seem enjoyable to them. For this purpose, Udreamer record players are the best gadget to use. Today we will explain the features and benefits of the Udreamer record players to help you choose the one without any hesitation. 
Udreamer Record Player Features
The Udreamer record player provides you with the facility of playing music via BlueTooth. So, you can play music on your phone and listen to it on your record player without any hassle. Many of the record players provide this facility, but they create range issues. However, you will not face any connectivity issues up to 30 feet. Playing music from other audio devices is also possible through cables.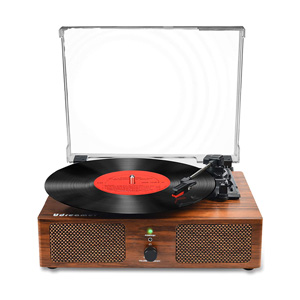 With this turntable, you can listen to your favorite digital music directly from a USB device. If you want privacy while listening to your favorite songs, the headphone jack lets you put the hands-free or headphones into the audio jack and listen to any music you like. 
With its spring and belt-driven design, the turntable base powerfully absorbs shocks, providing you with a smooth and quality sound. The method of this record player is excellent. It would be a great addition to your home decoration. As soon as the record is finished, the auto-stop ON / OFF switch will turn ON, and the record will stop automatically. This will not happen if the switch is turned OFF. If you want to keep this vinyl safe from scratches, keep the auto switch on. 
Pros
Bluetooth Connectivity
Produce smooth sounds
Ability of absorbing shocks
Cons
Need care if you want to use it long term
You may also check:
Final Words
With the Udreamer record player, you can elegantly listen to your music on your phone via the built-in stereo speakers, which feature Bluetooth wireless technology. It is possible to play music Directly by using the USB function. An RCA cable can be used to connect an external speaker for better or louder sound.
This vintage wooden music stand, combined with modern technology, allows you to enjoy retro-style music by vinyl records or wireless technology for digital music. Your record player will stay clean with the included dust cover.