When public opinion and technology combine, it results in a better and more reasonable end result. The collaboration of Drop (a public opinion-oriented tech manufacturer) and Audio-Technica brings this turntable for vinyl lovers. They claim it to be quite a game-changer for entry-level audiophiles. Is it? Let's find out.
As it was a collab, we were keen to know if it was worth playing, so we reviewed this for you all. To add competitiveness, we managed to play records on this turntable and Audio-Technica AT-LPW40WN. As a result, we devised this dependable review for our readers.
Drop + Audio-Technica Carbon VTA Turntable Review
We found it well-packaged with complete safety measures that impressed us a lot when we received it. While unboxing, the accessories and the turntable was further foam-padded. The turntable was in black tinted color.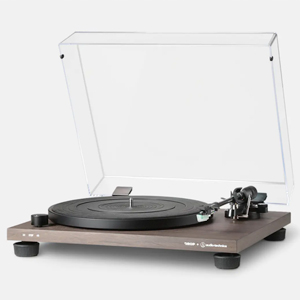 Nowadays, most vinyl setups work on a 2-speed mechanism, which comes with 33 and 45rpm speeds. It has a servo DC motor driven by a belt that brings finesse in its sound quality. It brings high fidelity sound quality for the audiophiles.
We found the setup relatively easy because of its premounted  AT-VM95E stereo cartridge and VTA. So, it is pretty helpful for novices as it is one of the complex tasks to do as an audiophile. Compared with Ortofon, the latter is still a better choice, but overall this cartridge brings optimum music experience.
When you discuss tonearm, one of the central parts of the turntable is made up of carbon, making the sound quality pretty stable and keeping the stylus on the grooves perfectly. It has the perfect anti-skating mechanism that keeps the stylus perfectly balanced on the record.
When we discuss the vibrations and resonance, this DROP + AUDIO-TECHNICA CARBON VTA TURNTABLE comes with an Aluminum platter that keeps the music experience pretty pleasant, and adjustable feet make it more static.
Key Features 
Driven Mechanism: Belt-driven turntable
Motor: DC servo motor 
Cartridge: comes with AT-VM95E stereo cartridge
Speed of the turntable: 33 ⅓ and 45 RPM
Tonearm: it comes with straight carbon tonearm for better music quality
Turntable Platter: Aluminum Platter for better resonance-free music
Wow and flutter: less than 0.15%
RCA output: for connecting any type of external stereo speakers
Dust Cover: for keeping it dirt free
Pros 
We found it exceptionally well-made and upgradable.
It comes with a dedicated phono preamp that saves extra bucks.
The set includes many accessories that don't have to be purchased separately.
We found its anti-skating feature quite fascinating.
Cons
It does not come with an acrylic platter and is also not upgradable.
You can not play your old shellac records as it does not support 78rpm.
It is lightweight than others in the same category.
Final Verdict
We have concluded that, considering the number of accessories it brings and the built-in preamp, we can simply say that it is pretty valuable for entry-level turntablists. In addition, if the platter would be upgradeable, it would be best. You may also check Thorens TD 102A Review | Lowest Friction and Noise Turntable. We have just provided you with the features, significance, and cons to bring more clarity to your decision.