Whether you are a hobbyist or pro-level enthusiast, you always get stuck choosing your new turntable. So, better choose the one with a better upgrade path that makes it stay with you for a long time. These two turntables are significant in their ways, but they both certainly possess high-end features that make people love these turntables.
If you are that type of turntable enthusiast looking for a final call to choose between these two turntables, then you are at the right spot. We provide you with a detailed dissection of the features, significance, and our final verdict about what is better for you.
Rega Planar 3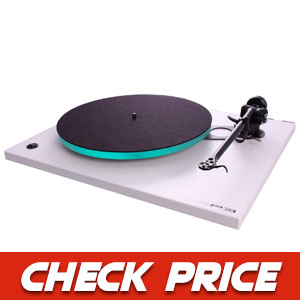 When it comes to quality turntables, the Rega Planar 3 is one of the finest on the market and ranks high on the list of best-selling models. This turntable is equipped with a belt-driven mechanism, decreasing wow and flutter during playback. It is equipped with a float glass platter, which improves the sound quality even more than before.
When it comes to setting up and finishing, this turntable comes at the top. You can easily set up these turntables. The sleek design with beautiful finishing provides the most satisfying experience. It makes a tapered tonearm even better, which reduces unnecessary vibrations and noise.
When it comes to sound quality and bass, it produces an immaculate sound that makes your music experience even better than you think of. Furthermore, it provides the upgrade path in option TTP SU external motor power supply that improves the speed stability and lets this turntable grow with you.
Tonearm: RB330 precision tonearm
Speed of the turntable: 2-speed turntable 33, 45
Cartridge: Rega Elys 2 cartridge
Double brace technology: for better vibration, less music quality 
Platter: float glass 
Upgraded Power supply: Compatible with Rega Neo turntable power supply
High gloss solid plinth: comes in different colors
Driven: Advanced EBLT Belt Driven
Lifetime warranty: making it more credible 
Counterweight: Tungsten Counterweight
Pro-Ject X1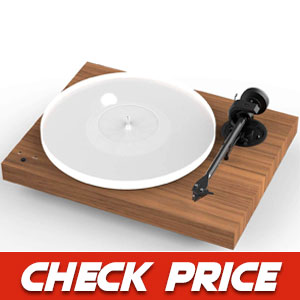 If you are searching for a sleek, simple, and sturdy turntable that can provide the most significant possible music experience, this is the turntable you should consider. It is a heavy turntable, reducing its noise and improving its stability.
It comes in a high-quality, simple design that makes it more attractive and intriguing. On the other hand, it has high-end turntable qualities in this price range. This 3-speed turntable has metal feet that make it stable and produce less resonance. 
The new stainless steel platter and motor make it an even more satisfactory choice for audiophiles. The tonearm of 8.6'' makes it no resonance turntable that works perfectly with the S2MM cartridge.
Speed of the turntable: 33, 45, 78
Driven Mechanism: belt-driven turntable
Wow & flutter : 33 0.15%, 45 0.13%
Platter: heavy acrylic platter for a better music experience
Tonearm: carbon or aluminum sandwich
Cartridge: Ortofon S2MM
Dust cover: for better dirt-free life. 
RCA Cable: for better connection to external devices.
You may also check:
Difference between Pro-Ject Tube Box S2 vs DS
Fluance VS U-turn – Difference
Flac or Vinyl [Which one to buy]
Final Verdict
Weight
When it comes to weight, which acts as a noteworthy factor for better sound quality, the Rega Planar 3 is heavier than the Pro-Ject X1, making it more stable than later.
Cartridge and Tonearm
If you go for the cartridge, then Rega Planar 3 is fitted with a more sophisticated Elys 2 moving-magnet cartridge that makes it more efficient sound and music quality. On the other hand, the tonearm of both the turntables tends to compete with each other.
Build-Quality 
The Pro-Ject X1 has a lighter weight and more durable construction. Both players use very light MDF baseboards and glass plates with aluminum arms, but the Rega is less stable.   
You can see that both turntables are reasonable choices. If you are searching for an entry-level hi-fi turntable, the Rega Planner 3 is likely a better option than the other models.