I recently crashed at a friend's house and was fortunate enough to discover about his extensive vintage record collection as well as his nice semi-automatic Yamaha p200. Since I am the one who has a fondness for older models, this was a wonderful surprise for me. If you are an audiophile who has a special place for old and vintage turntables, the Yamaha p200 is the perfect option for you.
The Yamaha p-200 turntable specs, which enable it to compete with today's turntables, are what I found most intriguing about the Yamaha p200.
Yamaha p200 Turntable| Vintage and Semi-automatic Turntable
When it comes to speed, it is a turntable supporting 2-speed dealing with 33 ⅓  and 45rpm. It is a classic Japanese-made turntable with better quality and reliability because of its solid structure.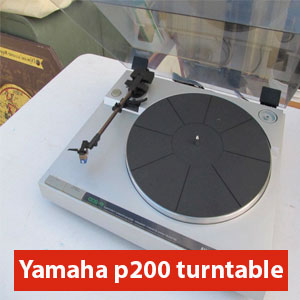 The most prominent feature that makes this turntable unique and up to mark is the auto-return tonearm with the headshell. After the song is finished, it returns to the original place that preserves the extra wearing of the record and needle. This semi-automatic feature can make anybody fall for it. 
The anti-skating feature is also worth appreciating, which makes it more considerable. It helps you get a better and steady record experience. It does not allow the tonearm to skate freely; instead, it keeps the needle on the grooves to provide clear sound quality. 
I further tested the turntable to better know about the tracking force and sitting of the cartridge, and it was explicitly great. The heavy base plate makes it less noisy and ideal for playing records for your late-night jamming. The motor works fine and doesn't create much noise. It has a sway of about 0.04%, which is ideal in this turntable.
Playing your favorite record runs smoothly on the turntable and the cut button to finish with the cueing up and down feature. In addition, it has an excellent grip of the 4 spring-reinforced rubber feet that keep the turntable intact and help in a better noise-free music experience. 
Key Features and Specifications
Here are a few details about the device that makes it quite classic.
Driven Mechanism: it is a belt-driven masterpiece.
System: semi-automatic and with auto-return feature
Speed of the turntable:  it comes in 2-speed with 33 ⅓  and 45 rpm.
Tonearm: Optimum Mass Straight Tonearm
Cartridge: MM system Yamaha CG-7700/ Stanton 680EE cartridge
Width: it has a width of 43.5 cm
Height: it comes with a height of 11.1 cm 
Weight:  it weighs approximately 5 kg.
Dust Cover: to keep it dirt-free that increases life.
Pros 
Auto return feature is quite efficient.
It has a better sway of about 0.04% for better sound quality.
Cons
Yamaha p-200 turntable belt often causes issues and needs to be replaced.
You may also check:
Final Verdict| All in one turntable 
The Yamaha P200 Turntable is a versatile turntable perfect for home audio. It is made from high-quality materials that are easy to maintain. It provides a balanced music experience despite being a classic Yamaha turntable. Yamaha p200 is relatively easy to set and a portable turntable with the modern and classic all-in-one combination that you rarely find in the turntables.
In a word, the Yamaha p200 Turntable Vintage is a turntable with a classic design. It is an excellent investment that's perfect for vinyl enthusiasts.