Fluance is one of the leading record player manufacturers, and the main reason it intrigued audiophiles is its high-fidelity and clear sound quality. Different Fluance is there in the market, but the Reference Series, specifically RT82 and RT83, has earned quite a name. 
Fluance is one of my personal favorite turntable companies. I have been using Fluance rt82 black since last year. I keep on upgrading different models they launch in the market and recently got rt83. In this comparison, we'll dissect different similarities and differences to reach the final verdict for you that will help you choose between Fluance RT82 vs RT83.
Fluance RT82 vs RT83 | Comparing Two Revolutionary Turntables
For precise analysis of the features and fundamental differences, we have created a thorough comparison to look at:
Fluance RT82 vs RT83| Similar Features
There are lots of features that are pretty similar in these two turntables. Both turntables offer pure analog music performance. Furthermore, they are made up of high-quality materials. 
Driven Mechanism: both are belt-driven and come with a servo motor.
Speed of the Turntable: 2-speed turntables support 33 ⅓  and 45rpm only.
Wow & Flutter: they have the same 0.07% sway, making their sound quality better.
Auto-Stop: it prevents the records from wearing out after finishing.
Cue lever: it helps to place the tonearm on the record
Tonearm: S-shaped tonearm for better quality Music Experience 
RCA output: RCA makes connecting your external stereo speaker with the turntable or any external system.
Rubber Feet:  prevents extra noise while playing music and keeps it static and intact.
Platter: Aluminium-made platter for resonance control.
Plinth: wooden plinth makes it durable and credible, which increases its life.
Dust Cover: it prevents dirt and residue.
Moreover, both turntables come in the exact dimensions and the same weight.
Main Differentiating Factor| Cartridge of the Turntable
The Cartridge is the main feature differentiating these two turntables of the same series.
Fluance RT82 comes with an Ortofon OM10 elliptical that maintains the accuracy and clarity of the sound. On the other hand, the latest Fluance RT83 comes with the Ortofon 2M cartridge, and it is diamond-tipped, making it more accurate and in better sound quality than the Fluance RT82.
Important Features They Both Lack 
Fluance RT 82 and Fluance RT83 are very competitive in everything, but they both lack in having some features like:
USB:  for transferring your record to your PC.
Pitch Control: for control of the pitch/speed of the turntable.
No preamp: these both turntables do not come with a built-in preamp. You need to buy it separately, which increases the budget. Sometimes, it turns out to be the deal-breaker for most audiophiles tight on the budget.
Pros and Cons of Fluance RT82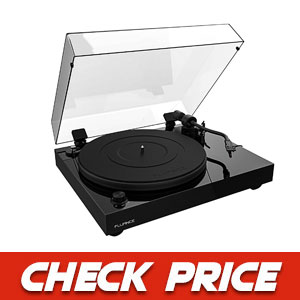 Pros 
It has an easily removable headshell that helps you change the cartridge smoothly.
We found the anti-skating adjustment keeps the needle on the grooves and prevents record-wearing.
It has undoubtedly excellent sound quality.
Cons 
We have to buy a separate preamp that is quite heavy on the pocket.
Pros and Cons of Fluance RT83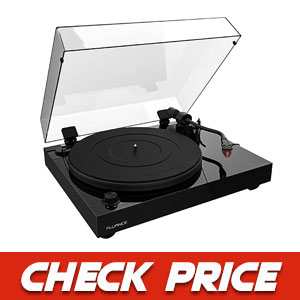 Pros 
We have found the sleek design of Fluance RT83 exceptionally lightweight.
It comes in excellent build quality and is solidly made.
Auto-stop works very accurately that protect my records.
Cons 
It takes time to set up the turntable, like mounting the headshell.
You may also check:
Final Verdict  
After carefully considering all the features, build quality, and design, we have concluded. Fluance RT83 is the relatively better choice for Sound Quality because of the updated Ortofon Cartridge 2M. If you are into these Fluance turntables, you better buy a separate Preamp. Fluance RT82 vs RT83, to determine a winner is quite tricky, but if you want to spend average and enjoy your record, the former is better, but for real audiophiles, later is better.