When you discuss Marshall Speakers, you get the feel of Rock as it is an offspring of rock music. I needed a speaker for my record player, so I decided to go for this well reputed Marshall speaker. You may choose from various alternatives, but I went with the Marshall Stanmore II Wireless Bluetooth Speaker. 
While using it, there were mixed sorts of feelings and analyses for this speaker. Let me take you to the whole process, how this marshall speaker works, and the different features it is equipped with.
Unboxing and First Impression
As an audiophile, I have developed a sense of critique and analysis. When I first ordered it, my view about it was just mediocre. After receiving and Unboxing it, my first impression was entirely satisfactory as its design and thorough packaging intrigued me.
It has quite a design that is mixed with retro and modern innovations. It is easy to set up and comes with the standard power cable, user manual, and 3.5mm stereo cord-like headphone jack.
Marshall Stanmore II Wireless Bluetooth Speaker
It was a breeze set up, and it was ready to play my record in a moment. The lack of a battery means that you will have to plug it in every time you want to use it. Bluetooth connectivity is not user-friendly since it requires installing an app on the phone to connect.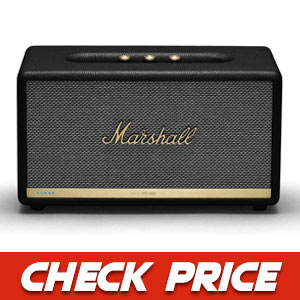 The 3.5mm RCA cable helps connect your vinyl directly to the speaker. When you discuss variety and innovation, the Marshall Bluetooth speaker provides the Multi-host functionality that lets you connect multiple Bluetooth devices to use it occasionally. On the other hand, the sound was quite right according to the size and price range but could be much better.
Marshall Stanmore II speaker's design is vintage retro, and there is a grill-like shape on the front side but pretty eye-catching. It is not wrong to say the overall design is up to mark. And the sound quality was standard in this category.
Features at Glance
Certain prominent features make it a suitable choice for the record player; these features are:
TidBit:
You need to download the marshal application for the first time to connect the Bluetooth, and then you may keep or delete it.  
Bluetooth 5.0: for connecting your mobile phone and turntable/ record player.
RCA Cable: connecting it to the record player or mobile phone directly.
Multi-host Functionality: for connecting multiple devices
aptX Technology: for a better stereo experience 
Marshall App: for connecting phone or Record Player
Frequency Setup: for setting the suitable range from 
Optical audio port: transferring through fiber optic cables
Pros 
The design is quite enticing and attractive, in a word, complete.
Multi-host functionality is a plus point for more people at a place.
The sound quality is pleasant to listen to.
Cons 
We discovered that it was less compatible with different devices.
You need to download the app for Bluetooth connectivity.
You may also check:
Final Verdict
If you are looking for a record player speaker, you need to know about the complexity of the marshall app. Otherwise, it has an outstanding and durable design with acceptable sound quality.